Why Choose a Maintenance Plan?
Roof systems, unlike other components of a building are susceptible to severe weathering, expansion, contraction and human abuse. It is not uncommon for some leakage to develop within a very short period after the original roof application as a result of these causes, thus requiring continual inspection and maintenance. In addition, exposure to unusual pollutants, strong winds, hail and long continued rains, may result in additional roof system degradation.
As a result, building owners and property managers should routinely implement a scheduled roof inspection and maintenance program.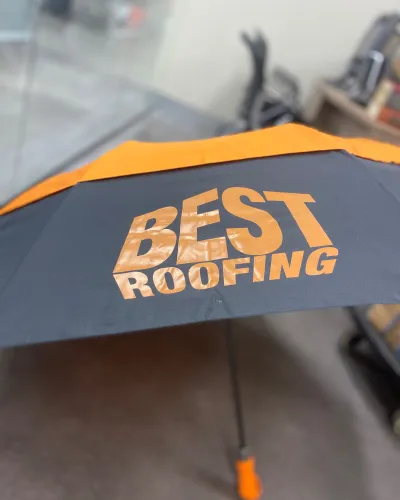 "Umbrella Maintenance" Program
Manage Roof Expenses and Utilize Preventative Maintenance Treatments
The Best Roofing "Umbrella Maintenance" Program helps property managers and business owners manage roof expenses and includes preventative maintenance to preserve and extend the life of your roofing system. We have different levels of coverage that are tailored to your budget. Ultimately, the Umbrella Guarantee means you can have the full assurance that roof problems are a thing of the past.
Our goal is to ensure performance of your existing roof system by offering a maintenance program, which ultimately reduces the costs incurred for roof replacement. Our watchful eye will detect such causes that ultimately result in prolonged saturation and subsequent destruction of the roof system and structural components.
Best Roofing's "Umbrella Guarantee" Program Includes:
On-going repair of all leaks at no additional charge
Annual maintenance check-ups
Disposal of accumulated debris
Priority service for roof emergencies
Sealing and top-off of all pitch pans
Caulking, coating & sealing of all flashing conditions
Production of a complete report
Before and after photos