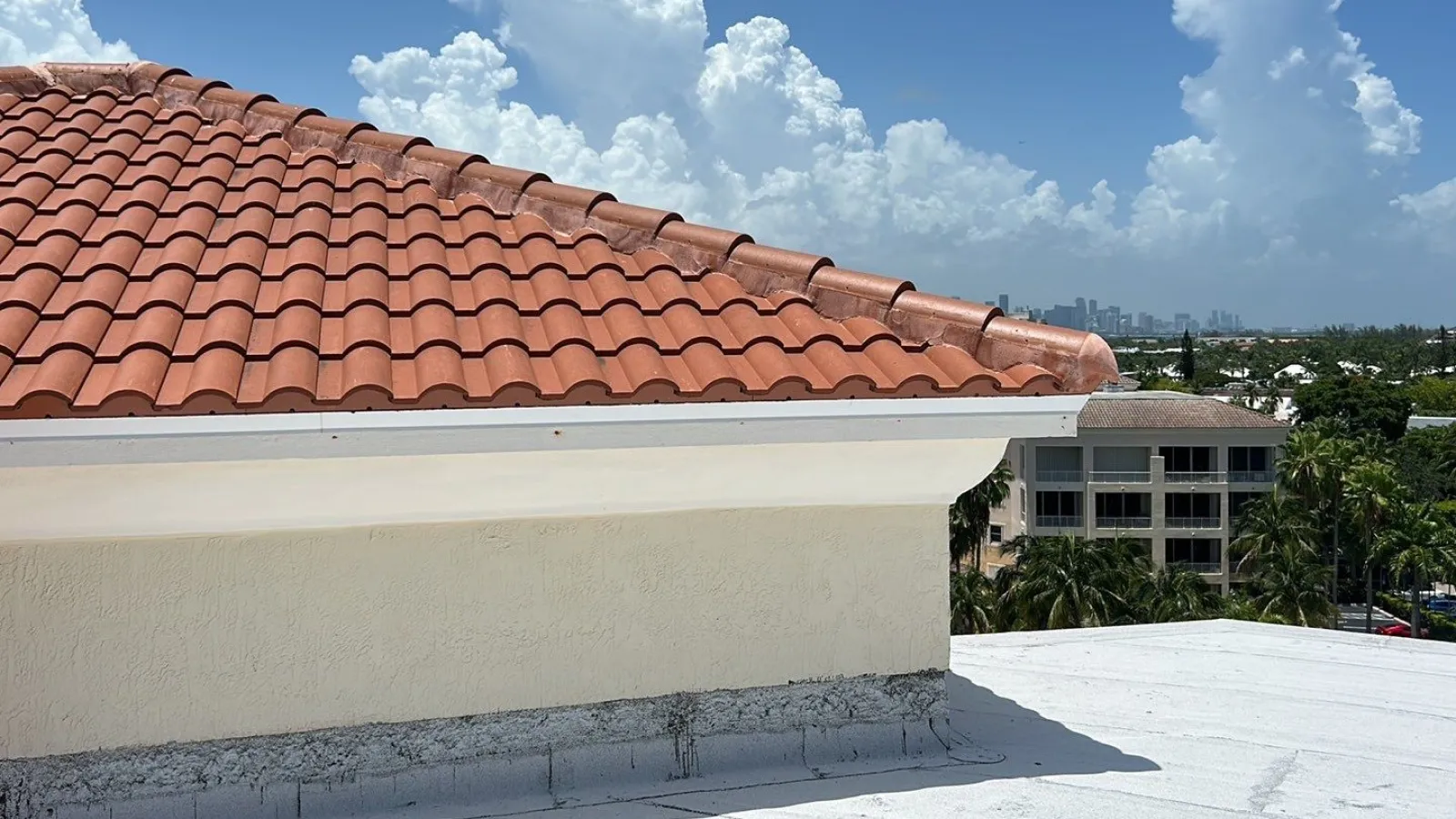 Commonly Used Roofing Terms
Welcome to our comprehensive guide on roofing terms. Whether you're a community association manager, property manager, property owner, or industry professional, our extensive list provides clarity on the jargon and terminology commonly used within the roofing sector. From common materials like asphalt and shingles to technical terms such as bitumen and flashing, we've curated this glossary to serve as your go-to reference. Stay informed and navigate your roofing projects with confidence. Don't forget to bookmark this page for easy access, as it's a valuable resource for all things roofing.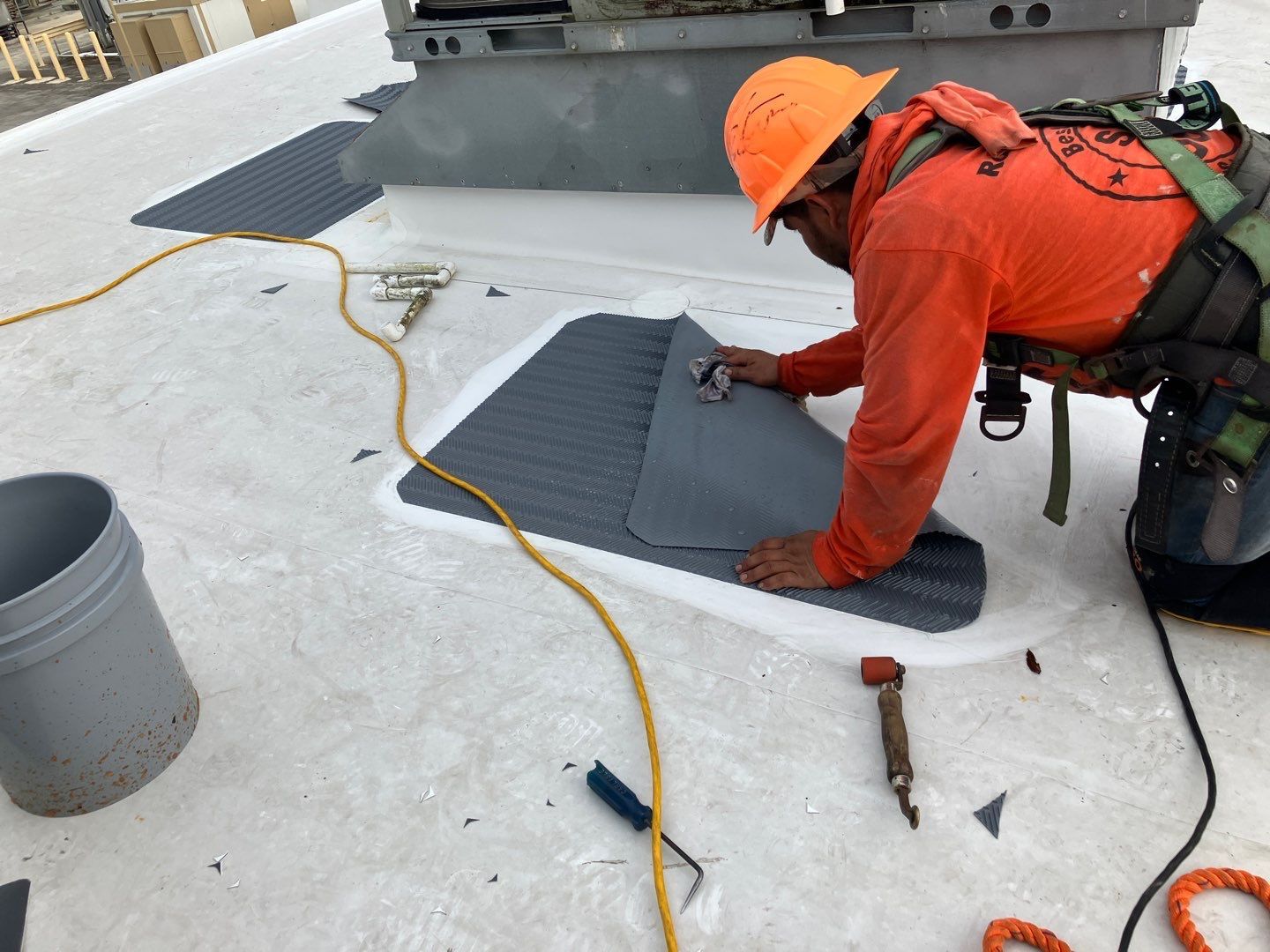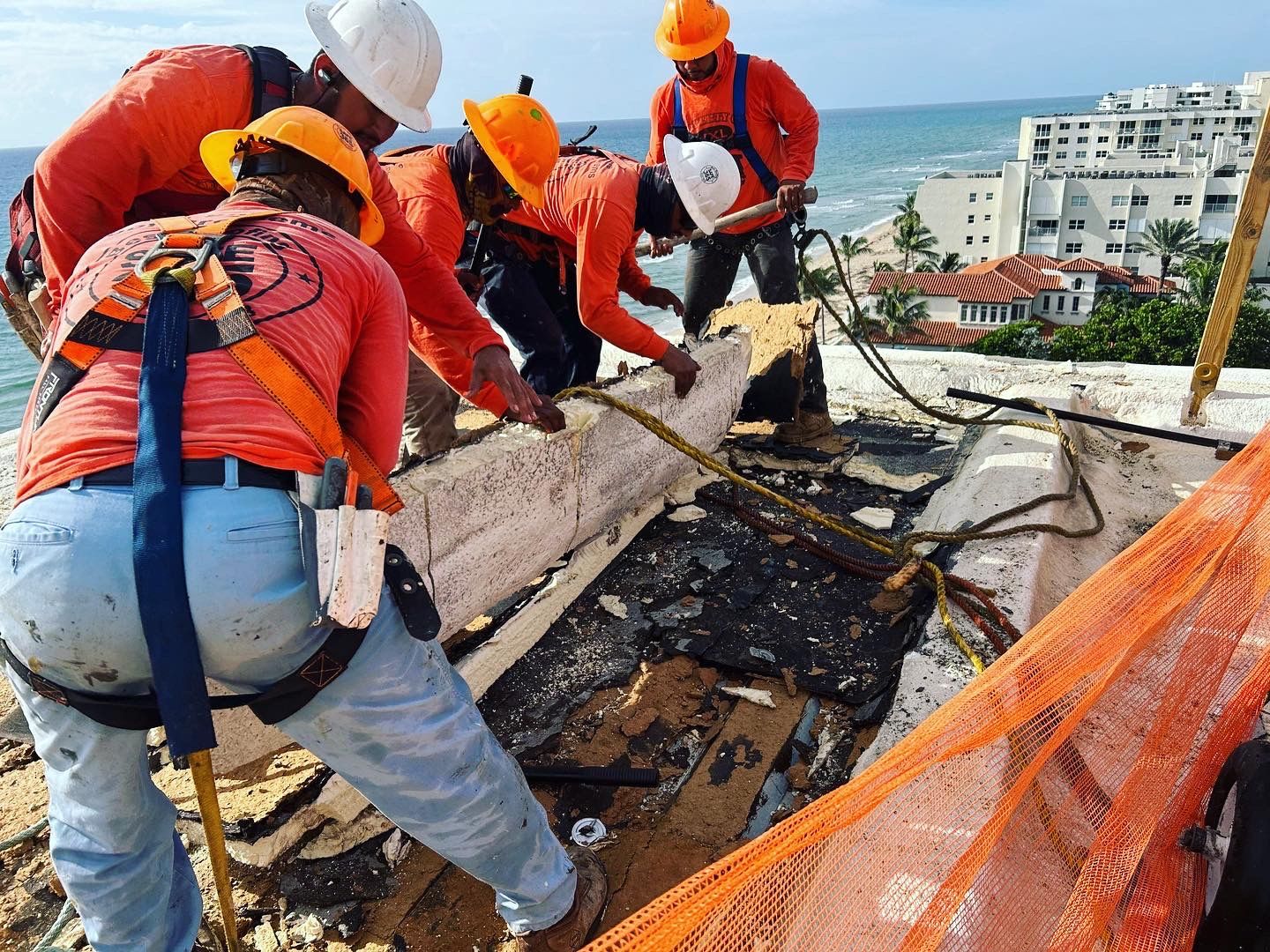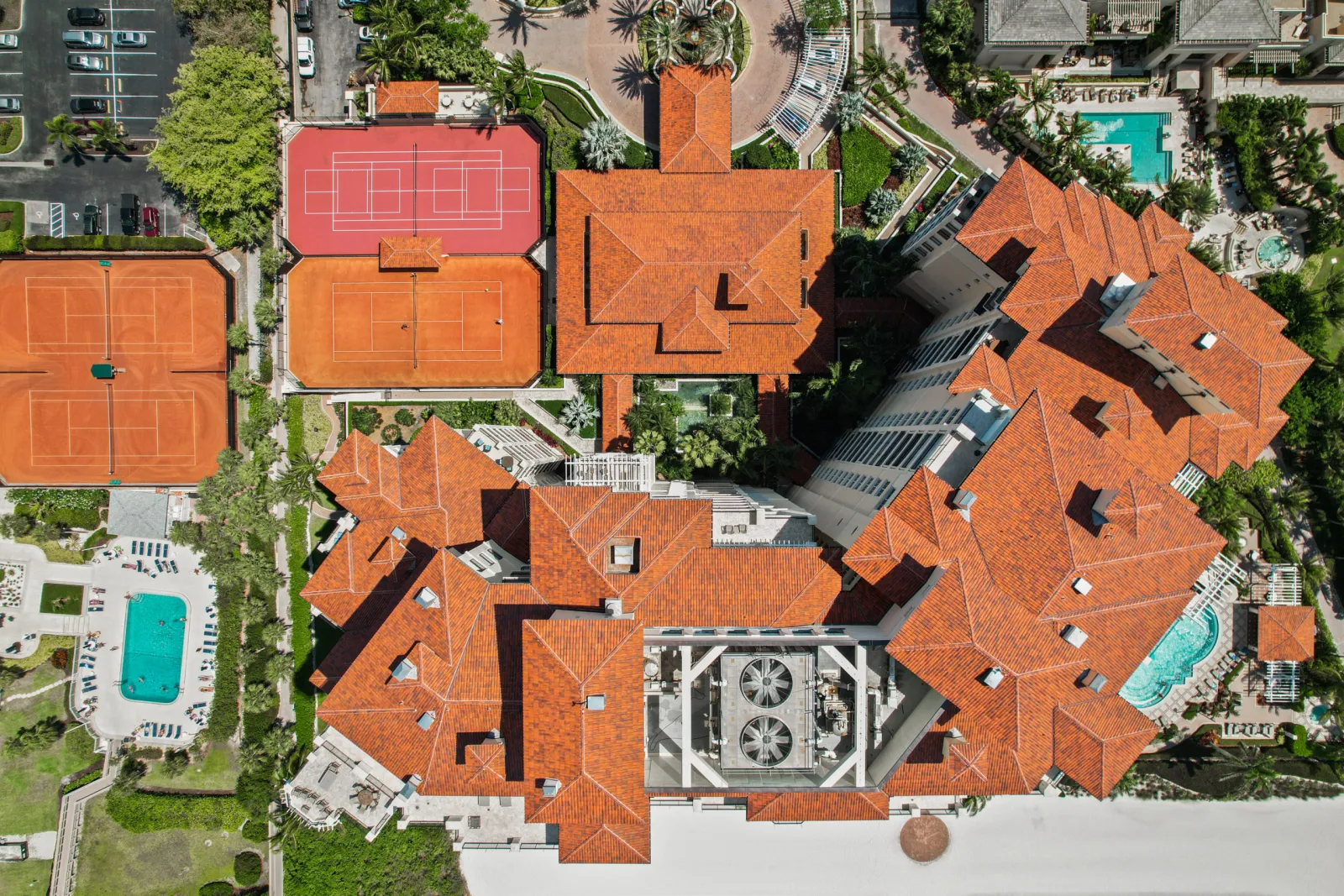 A - C
AGGREGATE
Rocks or granules used on the surface of roofs to protect them from UV damage and provide a finished appearance.
ALL WEATHER ELASTOMERIC MASTIC

A versatile, asphalt-based roofing mastic designed for installation in damp or wet conditions.
ALLIGATORING
Surface cracking resembles an alligator's hide, often due to the aging of asphalt.
APPLICATION RATE

Measurement indicating how much material is applied per unit area, e.g., 1 gallon per 100 square feet.
AREA DIVIDER

A structure used to alleviate stress in roofing systems on decks without expansion joints.
ASBESTOS

A natural, heat-resistant mineral fiber once used in various building materials.
ASPHALT

A black, sticky material used in making roofing materials due to its waterproof properties.
ASPHALTIC

Pertaining to or treated with asphalt.
ASPHALT FELT

Felt either saturated or coated with asphalt.
BACK NAILING
Securing roofing felts with fasteners in addition to using adhesive, ensuring the fasteners aren't exposed.
BASE FLASHING
Flashing that bridges the transition from the horizontal roof deck to a vertical surface.
BASE PLY

The primary or bottom ply of roofing felt in a system.
BASE SHEET
The initial ply, either coated or saturated, in a multi-layer roof membrane system.
BATTEN
A strip of wood or metal placed on a roof's surface to elevate and secure roofing material.
BITUMEN

A viscous material derived from petroleum or coal, often used in roofing as a waterproofing agent.
BITUMINOUS
Related to or containing bitumen.
BITUMINOUS EMULSION
Water or a water-soluble solution containing tiny droplets of bitumen.
BITUMINOUS GROUT

Bitumen mixed with fine sand that becomes fluid when heated.
BLACKBERRY

A minor blister in the flood coat of a gravel-topped roof.
BLIND NAILING

Nailing roofing material in a way that hides the nails from external elements once the system is in place.
BLISTER / BLITSTERING
The formation of blisters in roofing materials due to moisture or air trapped inside.
BLOCKING

Support structures, typically made of wood, integrated into roofing systems to provide secure attachment points.
BOND

The forces of adhesion holding roofing components together.
BROOMING

Pressing roofing material into adhesive using a broom to ensure good contact and bonding.
BUILT-UP ROOF MEMBRANE (BUR)

A type of roof where multiple layers of asphalt and reinforcing fabrics are used.
CANT STRIP

A sloping or beveled strip easing the transition between horizontal and vertical surfaces on a roof.
CAP FLASHING

Metallic covering atop walls or projections, protecting them from moisture penetration.
CAPILLARITY/CAPILLARY ACTION
The action causing water to be absorbed into a material, which can sometimes lead to de-lamination.
CAP SHEET

A top layer in a roofing system, typically granule-surfaced.
CAULKING

Flexible material used to seal gaps or cracks in roofing structures.
COAL TAR

Dark, viscous residue obtained from the distillation of coal.
COAL-TAR PITCH
A variant of coal tar utilized for waterproofing in low slope roofing.
COAL-TAR FELTS
Roofing felts saturated with refined coal tar.
COATED SHEET FELT
Roofing felt with an additional coating of asphalt for enhanced protection.
COATING
A layer (often liquid) applied to roofing to protect it from the elements.
COLD PROCESS ROOFING

Roofing method using asphalt or other binders without the need for heating.
CONDENSATION
The process where water vapor in the air turns into liquid upon contacting a cold surface.
COPING
Protective capping on external walls, angled to deflect water.
COUNTERFLASHING
Material used to cover and protect a particular type of flashing, often at the roof's edge.
COURSE

A single layer of materials in a multi-layer roofing system.
COVERAGE
The area uniformly covered by a given amount of roofing material.
CRACK
A break or split in roofing materials, often due to stress or movement.
CRICKET

A raised section of the roof to divert water around chimneys or other structures.
CUTBACK

Bitumen thinned with solvents, used in cold-process roofing and as primers or coatings.
CUTOFF
A temporary waterproofing detail preventing water movement, removed after re-roofing.
D - H
DAMPPROOFING

Treatment to prevent moisture penetration but not necessarily under pressure.
DEAD LEVEL
A perfectly level surface without any slope.
DEAD-LEVEL ASPHALT
Asphalt with a low softening point, typically used on flat roofs.
DEAD LOADS
Fixed, non-movable loads on rooftops, e.g., HVAC systems or the roof deck itself.
DECKING / DECK
The structure upon which roofing and insulation systems are installed.
DELAMINATION
The separation of layers within roofing systems or within the material itself.
DEW POINT
The temperature at which air becomes saturated, causing water vapor to condense.
DORMER
A structure projecting from a sloping roof, usually housing a window.
DOUBLE-POUR

A method of applying two successive layers of aggregate and bitumen to a roof.
DRAIN
A fixture allowing water runoff from a roof.
DRIP EDGE
A metal strip at the edge of the roof to guide water off.
DROP BACK

A decrease in the softening point of bitumen when heated without air.
EAVE
The lower border of the roof that overhangs the wall.
EDGE SHEETS

Strips of felt narrower than a full sheet, utilized to initiate the felt shingling pattern at the roof perimeter.
EDGE STRIPPING
Narrow felt strips applied to seal the joint between flashing and the primary roofing system.
EDGE VENTING
Regularly spaced and protected openings along the roof edge to alleviate moisture vapor pressure.
ELASTOMER
A material capable of returning to its original form after being stressed.
ELASTOMERIC
Resembling rubber in flexibility; can stretch when pulled and revert to its original shape upon release.
EMBEDMENT
Pressing a material into an adhesive for secure placement.
EMERGENCY REPAIR

A temporary fix done under challenging conditions to prevent water penetration, usually replaced under better conditions.
EMULSION
A dispersion of an organic substance and water, typically made stable using a chemical or clay agent.
ENVELOPE

A seal around the edges of the roofing membrane to prevent asphalt leakage.
EPDM ROOFING
Ethylene Propylene Diene Monomer, a type of synthetic rubber roofing material.
EQUIVISCOUS TEMPERATURE (EVT)

Recommended asphalt application temperature, typically within a range of plus or minus 25 degrees F.
EXPANSION JOINT
A gap in roof decks or walls to facilitate movement.
EXPOSURE
The portion of roofing material left exposed to the elements after installation.

The duration during which roofing materials are exposed to environmental conditions.
FABRIC
A woven material made from organic or inorganic fibers.
FACTORY MUTUAL (FM)

An entity that rates materials based on their fire and wind properties for insurance purposes.
FACTORY SQUARE

Equivalent to 108 square feet of roofing material.
FASCIA
A decorative board extending down from the roof edge either at the eave or at the rake.
FELT

A flexible sheet created by binding fibers using mechanical action, heat, and moisture.
FELT LAYER

Equipment used to apply bitumen and lay down roofing felts.
FIBERGLASS FELT

Also known as "Glass Felt" - fibers of glass bonded into a sheet, ideal for bituminous roofing material manufacturing.
FINE MINERAL SURFACING

Inorganic material on roofing surfaces, primarily passing a No. 35 sieve test.
FISHMOUTH

A semi-circular or conical opening caused by edge warping in roofing materials.
FLASHING

Materials used to prevent water intrusion at any junction or penetration of a roof system.
FLASHING CEMENT

A blend of cutback bitumen and mineral stabilizers, like asbestos or other fibers.
FLUID APPLIED

Liquid elastomeric material applied and left to dry, forming a continuous, typically unreinforced, membrane.
GABLE
The triangular part of the roof at the end of a pitched roof.
GLASS MAT

A lightweight sheet composed of intertwined glass fibers.
GLAZE COAT

A protective layer of thin asphalt on a smooth surface roof or on inner layers during construction delays.
GRAVEL

Naturally eroded coarse aggregate, larger than sand.
GRAVEL STOP
A flange, usually metal, at the roof edge to prevent loose aggregate from falling off.
GUTTER

A channel at the edge of the roof to collect and divert rainwater.
HEADLAP

The distance (measured perpendicular from the eave) from the top edge of a shingle or felt to the nearest exposed layer.
HIP
The external angle formed by the intersection of two sloping roof planes.
HOT SHEET

Felt applied using hot bitumen.
I - P
INCLINE
Roof slope described either as a percentage or in vertical units per horizontal run (e.g., 4" in 12').
INORGANIC

Composed of non-plant or animal materials.
INSULATION

Material slowing heat or sound transmission.
JOIST
Horizontal beams that support the roofing structure.
LAP SEAM

Where two pieces of roofing material overlap.
LIVE LOAD

Transient loads on a roof, like equipment or weather elements (snow, rain).
MASTIC

A trowel-able combination of asphalt, volatile solvents, and mineral fillers utilized in the cold coating application for flashing and detail sealing.
MEMBRANE

A consistent, flexible, or semi-flexible roofing covering that acts as the water barrier in a roofing system. This term can also refer to an open weave fabric reinforcing waterproofing agents like mastic.
MESH

This refers either to a metallic screen used to reinforce stucco and concrete or an open weave fabric reinforcing waterproofing agents like mastic.
MINERAL FIBER FELT

Felt predominantly composed of mineral wool.
MINERAL GRANULES

Refer to "Fine Mineral Surfacing".
MINERAL STABILIZER

A fine, water-insoluble inorganic material blended with solid or semi-solid bituminous materials.
MINERAL SURFACED ROOFING

Roofing materials with a top ply characterized by a granule surface sheet.
MODIFIED BITUMEN

A sheet made of copolymer-modified bitumen, typically reinforced and surfaced.
MOLE RUN

A meandering ridge on a roof membrane not related to insulation or deck joints.
MOP AND FLOP

A method where a material is coated with adhesive before being placed on its installation point.
MOPPING

The act of applying hot bitumen via a mop or mechanical tool.
NAIL POP
A condition where the nail is pushed up above the surface of the roofing material.
NINETEEN-INCH SELVAGE

Roll roofing material with a granulated surface and a 19-inch smooth section for overlapping, resulting in a two-ply system.
NINETY-POUND

Granule-surfaced roll roofing material weighing approximately 90 pounds per 100 square feet.
NOT TO EXCEED (NTE)

A preset billing limit agreed upon with a client before commencing work.
NRCA

Acronym for the National Roofing Contractors Association.
ORGANIC

Materials originating from plant or animal sources.
OVERLAY
Installing a new layer of roofing over the existing one.
PARAPET WALL
A wall section that rises entirely above the roof.
PARGE COAT

A cementitious coating applied to walls to enhance resistance to hydrostatic pressure.
PENETRATION
Any object passing through the roof.
PERLITE

Aggregate used in lightweight concretes and insulation boards.
PERMANENT REPAIR

A repair designed to match the existing system and expected to outlast nearby roofing materials.
PHASED APPLICATION

The installation of a roofing system over multiple separate time intervals.
PICTURE FRAMING

Patterned material outlining the edges of a building or deck joints.
PITCH

PITCH POCKET
A metal collar, with flanges, placed around penetrations and filled with substances like bitumen or mastic.
PLASTIC CEMENT

Refer to "Flashing Cement".
PLASTOMERIC

A moldable, extrudable, or castable polymer resembling plastic.
PLY

A layer of felt within a built-up roof membrane structure.
POLYESTER

An inorganic polymer, convertible into fibers, used for reinforcing felts and fabrics.
PONDING

A roof section that allows water to stand for longer than 48 hours.
POSITIVE DRAINAGE

Drainage conditions ensuring complete water removal within 48 hours post-rainfall.
PRIMER

A liquid bitumen applied to surfaces to enhance the adhesion of subsequent bituminous materials.
Q - Z
QUOTED PRICE

A predetermined price provided to a client for specific tasks.
RAFTER
The supporting framing to which a roof deck is attached.
RAKE

The sloping edge of a roof situated at the first and last rafter.
RE-COVERING
Covering an existing roofing system with a new roof system.
RE-ENTRANT CORNER

An internal corner of a surface inducing stress concentrations in roofing or waterproofing systems.
REGLET

A groove in a wall or adjacent surface near the roof used for counter-flashing attachment.
REINFORCED MEMBRANE

A membrane fortified with materials like felts, mats, or fabrics.
REPAIR

Actions and materials to address and rectify a defect in a roofing system.
RESTORE

Efforts and materials used to rejuvenate a neglected roofing system to its optimal state.
RIDGE
The top edge of two intersecting sloping roof surfaces.
RIEI

Acronym for the Roofing Industry Educational Institute.
ROOF CEMENT

Refer to "Flashing Cement".
ROOF DIVIDER
A structural detail limiting the extent of a continuous roof membrane by dividing it into smaller sections.
ROOF MASTIC
Product used to seal a roof so water cannot penetrate.
ROOF VENT
A structure for ventilation that protrudes from the roof.
SCUPPER

An opening in a wall or parapet for the drainage of water from a roof.
SEAM
The junction of two materials, either by adhesive, heat welding, or other means.
SHINGLE
A small unit of material laid in overlapping rows to cover the roof or sides of a building.
SLIPPAGE

Lateral displacement of roofing system components.
SLOPE

The angle of incline of a roof expressed as a percentage or as a ratio of rise to run.
SMOOTH-SURFACED ROOFING

Roofing installed with a top layer devoid of aggregates or ballasts.
SOFTENING POINT

The temperature at which bitumen softens and starts flowing.
SOLID MOPPING

An unbroken mopping of bitumen.
SPECIAL STEEP ASPHALT

Refer to "Steep Asphalt".
SOFFIT
The underside of a roof overhang or eave.
SPLIT

A membrane rupture caused by tensile forces.
SPLIT SHEET
Refer to "Nineteen-Inch Salvage".
SUBSTRATE
The surface upon which the roofing or waterproofing system is applied.
TAR

A thick, black, sticky material used in roofing.
TEAR-OFF

The process of removing all or parts of a roofing system, often down to the decking.
THERMAL IMAGING SERVICE

A service detecting temperature variations on a rooftop, useful for leak detection and energy audits.
THERMOPLASTIC MEMBRANE

A membrane crafted using extreme heat, with notably strong seams. Examples include TPO and PVC.
TPO ROOFING

Thermoplastic polyolefin, single-ply membrane used for flat roofing.
TRUSS
An assembly of beams or other elements forming the structure for a roof.
UNDERLAYMENT
A layer between the roof deck and the roofing material, providing additional protection.
VALLEY
The internal angle formed by the intersection of two sloping roof planes.
VAPOR RETARDER
A material designed to restrict the passage of water vapor through a roof system.
WATERTIGHT
The quality of a roof to prevent the passage of water under conditions of hydrostatic pressure.