An Eco-Friendly Roof
A roof garden is any garden on the roof of a building. The ultimate choice for eco-friendly "green" roof installations is the Garden Roofing System. Combining the waterproofing power of TPO roofing membrane with the natural beauty of hearty vegetation décor, your roof can have the best of both worlds: green and durable. Garden Roofs not only save energy, they offer a whole host of related advantages for your existing or planned facility. They can be combined with a GAF PlazaDeck system to create not only an energy-saving system, but an outdoor deck, patio, or other functional area- it's like adding an extra floor to your property at a fraction of the normal cost.
Energy Savings...
Up to 15%, according to recent studies

Garden Roofing Systems can save your company money in energy consumption. The lush greenery absorbs virtually all of the heat, creating natural insulation and superb temperature control. According to one of our main manufacturers, GAF Materials, recent studies have shown an average savings of 15% for companies who benefit from the Garden Roofing System.
Tax Incentives...
Federal as well as many state and local governments have enacted tax benefits for garden-type roofs

In the spirit of saving money, Garden Roofing Systems come with another financial bonus: tax incentive. Federal and even state and local governments are enacting "green" tax benefits, including garden-style roofing. We recommend you speak with your tax professional about your local tax opportunities for Garden Roofing Systems.
Land Optimization...
The potential to build a larger structure add square footage onto your existing property than would normally be allowed by code (due to improved storm water management)

Hassle Free Installation...
From waterproofing the roof to planting the vegetation, the "greener" roofing system seems to the best choice. Garden Roofing Systems are quickly and easily installed, which means less disruption to your business or your tenants.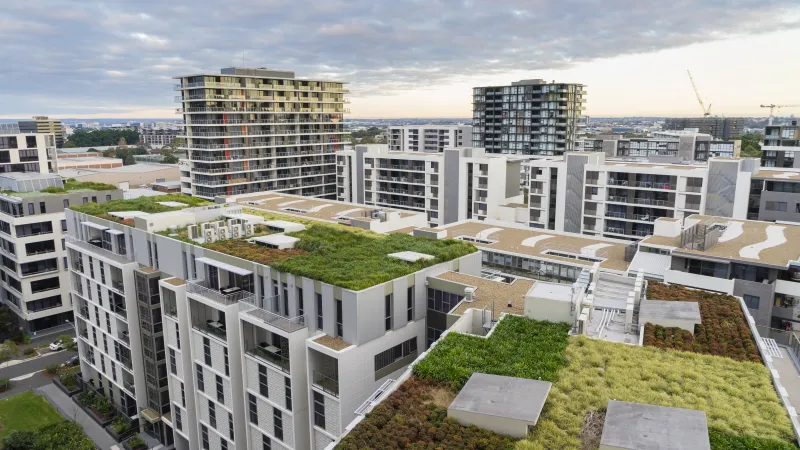 What to Avoid
The list of benefits for garden roofs is long. But before you select a garden roof for your property, be sure you avoid the common pitfalls and problems associated with many garden roof systems:
MAJOR PITFALL #1: Complicated, ineffective designs...Garden roofs can have up to 8 different components (not including the roofing membranes!), that can be time-consuming and difficult to install. If installed improperly, the result can be poor performance or even system failure.
MAJOR PIFALL #2: Multiple unaffiliated contractors...Most garden roof suppliers utilize different installers (roofing contractors, landscapers, etc.), which can lead to longer installation time and business interruption for you.
MAJOR PITFALL #3: Multiple guarantee sources...If you have a problem, who do you turn to? The roof manufacturer? The plant supplier? The contractor(s)? Will they even be in business in a few years (much less 20 years or more from now)?

To address these risks, Best Roofing works with GAF Material Corporation Gardenscapes hassle-free garden roof systems- the best and safest choice. Best Roofing is a GAF Master Select Contractor which means we offer unique protection that other contractors can't, including a no-dollar limit guarantee backed by GAF Materials Corporation, North America's largest roofing manufacturer.

Only 2% of the contractors in the U.S. have earned the Master Select status so you can be sure that or roofing knowledge and experience provide the highest quality and service.